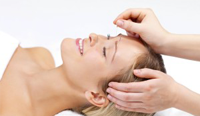 The best candidates for cosmetic acupuncture are individuals whoo want to reduce the signs of aging naturally without the use of plastic surgery. Cosmetic acupuncture is based on the priciples of traditional chinese medicine, where fine needles are inserted throughout the body to allow the free flow of "qi" (or energy) through many channels. From the Western perspective, it has been suggested that acupuncture stimulates the production of elastin and collagen fibres, improves circulation and relaxes tension in the muscles.
A treatment would involve the insertion of about 30 to 50 needles, with the majority on the face and head, and some on other parts of the body such as the lower legs, feet, arms and hands. The needles would stay in the body for 30 mins and on average 12 sessions are one cycle of treatments where significant results will be seen
The sessions may also be complemented with recommendations of dietary changes and herbal medicine.