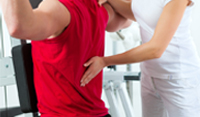 Physiotherapy incorporates different modalities such as electric muscle stimulation, ultrasound, heat/ice, exercises and more. By using certain modalities, physiotherapy can help break down scar tissue, increase blood circulation and restore proper muscle biomechanics.  By properly rehabilitating muscles and the body, you are able to reduce further aggravation or injury to the area of concern.
Physiotherapy just doesn't have to be the use of electrical pulses or ultrasound but it incorporates many aspects such as proper stretching and strengthening exercises, proper home exercises and progressive monitoring as your condition improves.  Here at Atlas Sports Fitness and Rehab, all physiotherapy is performed by Dr. Parminder S. Bhalesar.  With years of education and training, he has been able to treat many conditions ranging from post-surgical intervention to bullet wound injuries, neck to back injuries, car accidents to work injuries and many many more.
At Atlas Sports Fitness and Rehab, we take Physiotherapy one step further by incorporating Chiropractic, Acupuncture, Tuina Massage, and exercise regiments.  By doing so, we are better able to improve your condition and increase your well-being.